Done-With-You Services
I've built and grown multiple 7-figure business models over the last decade by leveraging digital marketing, marketing automation, and efficient business operations. I want to show you exactly how I've done it.
Did you know that over 70% of businesses fail after 10 years, while about 50% fail in the first 5 years? The longer you stay in, the more likely it is you'll fail. The antidote to business failure is *profit*. That's my specialty.
You might be wondering, "Eric, why would you teach everyone (including your competitors) your secrets?" The truth is…there are no secrets. Sorry to break it to you.
Plus, I want to build up another revenue stream. Always diversify your revenue streams (that's a free tip).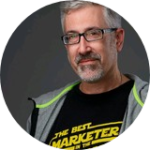 Zach Messler, Founder of 26th Letter.
"There's a hero among us. He works in the shadows.
He hides … (where? THERE!) … in plain sight.
And, as he performs his craft…your business can't help but thrive.
I don't say this lightly. Eric Covino is no mere mortal.
He's a frickin' superhero for my business.
I've hired Eric a few times to help me, including back-end work on my website, zachmessler.com, as well as an engagement to identify areas in need of operational improvement and help me address them through automation of key business processes.
And the results have been noticeable, measurable, and incredibly positive…EVERY. SINGLE. TIME.
Don't be fooled by the cool, calm demeanor.
Don't underestimate the stoic interactions.
And—if you're looking to scale your business and be ultimately successful…
Don't miss any chance to hire…Eric Covino."
Coaching & Community
Community
In 2020 I'll be opening up the Creative Signals Academy to the market. Until then, join my free Facebook group which is focused on digital marketing strategies and tactics that actually work.
Chris Carberg, CEO at Marion Media Group
"Eric is a seasoned established digital marketing strategist and entrepreneur with a history of successful ventures. I had the honor of working together with Eric on a number of projects all of which led to successful production and/or acquisitions. While he has been doing this for some time, he hasn't lost his edge and remains willing to look for new technologies and strategies that push projects forward.
I know firsthand that Eric has trained and guided many talented professionals in the SEO space and encouraged their success. His SEO knowledge is founded in high-quality hard work that many eschew in exchange for cutting corners. I consider Eric to be a respected colleague but also a dear friend with a passion for his family. I recommend Eric for anyone looking to push forward and move past the status quo.."
Coaching
The Scale Your Profit™ private coaching program is not currently accepting applicants at this time.